About Us
We do residential and commercial excavating
Bellingrath Bros. is a Connecticut excavation company located in New Britain. We service a large area in Connecticut and do both residential and commercial excavating as well as general site work. Since we are also a full service landscaping business we often enable homeowners and businesses to reduce the number of different contractors they will need to deal with for a project.
Our small size, attention to detail and almost 20 year track record make us a safe choice for your Connecticut excavation project. We have maintained a 5 star review on Google and take great care in every job that we do, large or small. Contact us today to get a free quote on your project.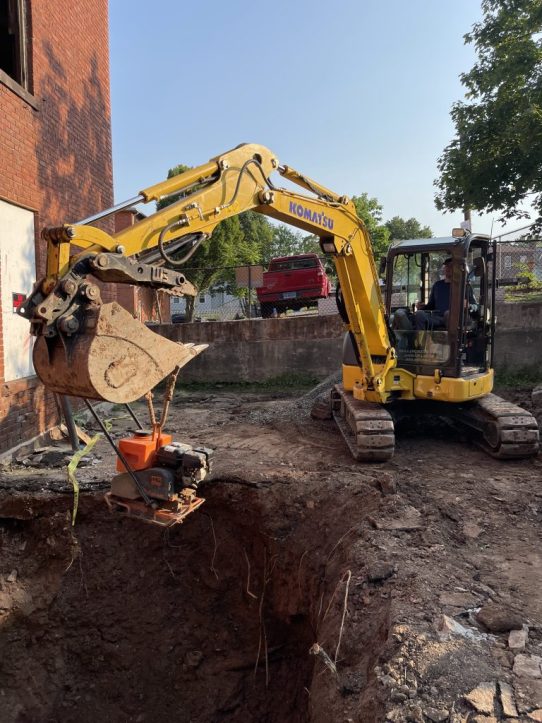 Mac has been taking care of my property for close to a decade, from snow removal, to laying sod, to clearing out woods to create more yard he has always delivered. Mac cares about every project he takes on and is not satisfied until the job is perfect. He is loyal, dependable, and responsive, if you need a landscaper who you can count on Bellingrath Bros is it.
Top tier landscaping outfit, great customer service, you won't find better work ethic. These guys are very passionate about what they do, always going above and beyond for there customers. They take great pride in the work they do. I have used there services on many occasions pavers, retaining walls, new landscaping installation, maintenance, snow removal, drainage issues, tree and stump removal, they also do light concrete work and have a terrific mason on the team. I highly recommend Bellingrath bros for all your landscaping needs.
Types of Excavation Projects
The following are a few of the types of excavation projects that we do. Our state of the art equipment can make fast work of many excavating projects.
Trench Excavation
Trench excavation is done when the length of the area to be excavated needs to exceed the depth of it. It's typically used to install sewer systems or bury services in the ground.
Drainage Excavation
Proper drainage on a property helps ensure that water is funneled away from certain areas such as infrastructure, agriculture and areas where water can be harmful. An excavation project where the purpose is improving drainage, often involves creating ditches, trenches or other structures to help facilitate an optimal drainage path. We often see properties that experience complications due to poor drainage. This can lead to a buildup of stagnant water in a yard which can result in the following issues.
Muddy and waterlogged portions of the grass
An increase in mosquitoes and other pests attracted to the water
Damage to nearby walkways or structures
Basement Excavation
When new properties are built in New England a basement is often created. This involves an excavation process where the dirt is removed and taken offsite.
Earth Excavation
When soil is removed (below the topsoil) this is referred to as earth excavation. It can be performed in order to create a structural foundation (such as building a basement), creating a drainage ditch or doing any other project where earth needs to be removed below the topsoil.
Rock Excavation
We often perform rock excavation when rocky surfaces impede construction or cause some other issue.
Topsoil Excavation
Unlike earth excavation which occurs below the topsoil, topsoil excavation involves removing the upper level of soil and the vegetation on top of it.
Foundation Repair
In some instances foundation excavation is necessary in order to gain access to do foundation repairs. If a basement foundation has structural issues it's sometimes necessary to excavate the earth next to the foundation in order to perform a repair.
Other Services
The following are some additional services related to excavation that we offer.
Land Clearing
Retaining Walls
Tree Work
General Landscaping, Lawncare and Snow Removal Services
Get a free quote on your next project
We invite you to contact us today to get a free quote on your Connecticut excavation project.
Mac Bellingrath and his team transformed our property within budget while staying within our requested time frame. We found this company on line after a couple missteps with other local landscapers who seemed disinterested and overpriced. Mac responded to our call promptly on a Sunday morning and met with us that same day. He listened to our concerns regarding our admittedly overgrown, tired, weedy property.
Mac collaborated with us and shared his own vision to transform and beautify our modest yard. He incorporated our ideas with his awesome design concept. They mulched, edged and removed poison ivy, and saplings. The team removed dead/diseased bushes and two ugly trees and relaced them with gorgeous hemlock bushes, a Japanese maple , ornamental grasses, hibiscus plants …We were especially pleased and surprised that he chose the lavender plants that we love.
Our backyard was transformed by Mac Bellingrath and his crew! Mac worked close with us to understand and implement our vision. His vast knowledge of landscaping including materials, plants and design added to our project. Most importantly, Mac understood and stayed within our budget and time frame. His crew was consistently on-time and professional. My family is enjoying our new oasis and it has been a game changer for our outdoor enjoyment.
Our Excavation Project Gallery
Click the images below to see larger versions of them.