Picture this: you're walking down the street, and you come across two businesses side by side.
One of them has well-maintained landscaping. There is lots of lush greenery, trimmed trees, and colorful flowers. The other is barren, with empty planters and unkempt grass.
Which one do you think stands out more? Which business do you think would attract more customers? The answer is probably pretty obvious, yet good commercial landscaping is something that many business owners ignore.
In today's competitive market, every business needs to do whatever it can to stand out.
One of the most effective ways to do that is by investing in commercial landscaping. Not only does it make your business look "prettier," but there are a whole host of other benefits that come with it.
If you're a business owner in West Hartford, CT, it's time to consider commercial landscaping. West Hartford commercial landscaping services will not only add the curb appeal your business needs to attract new customers, but it will also provide the welcoming face it needs to keep them coming back.
Keep reading to learn more about why you need commercial landscaping for your business – and how Bellingrath Bros. Landscape & Design can help you bring your dreams to life. We are a top West Hartford landscaping company that offers commercial, residential and even municipal services.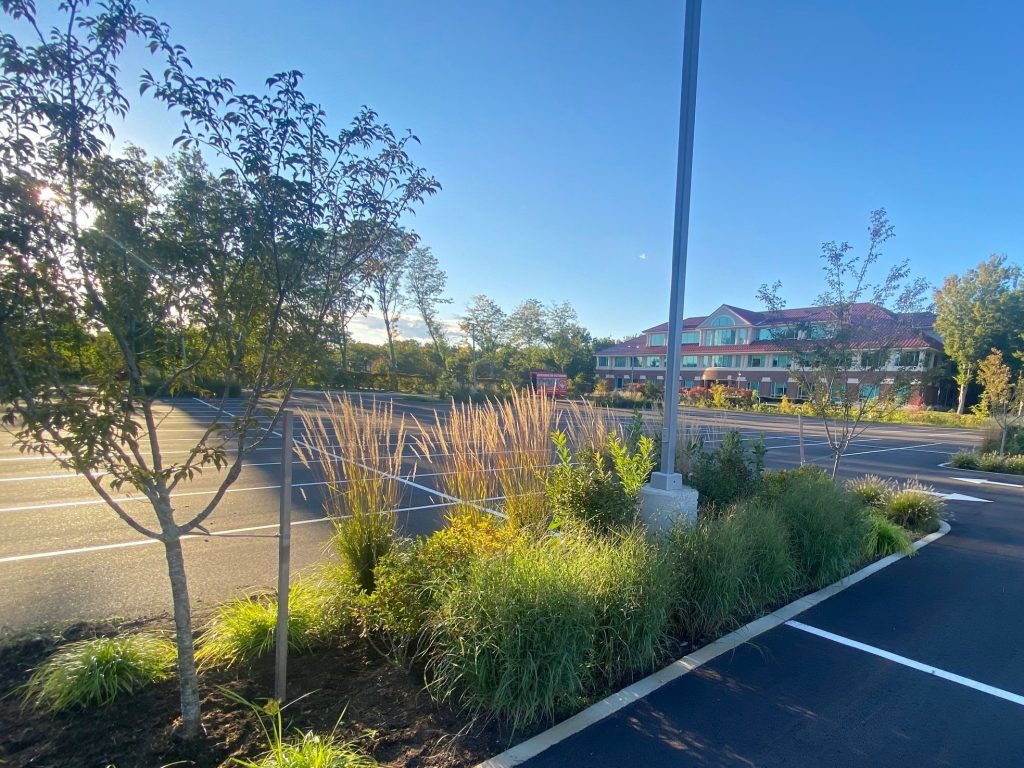 Why is Commercial Landscaping Important?
There are lots of reasons why you might want to consider investing in commercial landscaping services for your business.
For starters, commercial landscaping can increase the value of your property. If you own a building, having beautiful landscaping out front can improve your curb appeal and make your property more attractive. It goes without saying that nice landscaping is a must for anybody involved in real estate (including those renting out buildings to tenants), but it's essential for just about any other kind of business, too, including restaurants, healthcare facilities, hotels, retail stores, and much more.
Adding landscaping can make your business more appealing to customers, resulting in higher revenue. In fact, studies have shown that businesses that invest in landscaping can see returns of up to 5-20%.
But it's not just about the financial benefits. Commercial landscaping can also have a positive impact on the environment. Greenery can help absorb pollutants and improve air quality. And if you choose to incorporate native plants into your landscaping, you can help support local ecosystems and protect biodiversity.
Not sold yet? Another benefit of commercial landscaping is that it can improve employee morale and productivity.
Studies have shown that access to nature can reduce stress and anxiety, making for happier and more productive workers. And if your business has an outdoor space that employees can enjoy during breaks or lunch, that can be a major perk that sets you apart from other businesses.
But here's one you might not have thought of: good landscaping can actually improve public safety.
Clear walkways, well-lit paths, and properly maintained trees can help reduce the risk of accidents and falls. And if your business is located in an area with a high crime rate, well-lit and well-maintained landscaping can deter criminals and make your employees and customers feel safer. It can reduce the likelihood of costly insurance claims that can jack up your rates and increase the price of doing business, too.
Finally – and there's no other way to say it – commercial landscaping is just good for your brand. A well-maintained property shows that you care about your business and your community. And if you're going for an eco-friendly, sustainable image, your landscaping choices can reflect that as well.
What to Look for in a West Hartford Commercial Landscaping Company
When you own a business, the landscaping of your property is just as important as the products and services you offer and the customer service you provide. If you weren't aware of that before, this article has hopefully done a good job of convincing you of that fact.
An attractive and well-maintained landscape can boost your curb appeal, attract new customers, and create a positive impression that will keep your patrons coming back for more.
But with so many options out there, how do you know what to look for in general landscaping services? We've got you covered.
Here's what you need to keep in mind.
Experience and Expertise
When selecting a landscaping service for your business, you want to choose a provider that has experience working in the West Hartford area. These companies will have a deep understanding of the local climate, soil, vegetation, and pest challenges, as compared to those from outside the region who may not be aware of what they're up against.
They'll also have experience working with other businesses in the area and can provide references and examples of their work – or provide referrals for other projects you might need to be done as well.
Look for companies that specialize in commercial landscaping, as they will have the expertise needed to maintain large properties with a variety of landscape needs.
Range of Services
Your business landscape needs may vary depending on the time of year and the specific features of your property.
Choose a landscaping service that offers a range of services to meet these needs. This might include lawn care, tree trimming and removal, irrigation system maintenance, flower bed design and installation, and snow removal.
By selecting a company that can handle all of your landscaping needs, you'll save time and hassle coordinating multiple providers.
Professionalism and Quality Assurance
Your business landscape is a reflection of your brand, so it's important to choose a landscaping company that takes pride in its work and offers a high level of professionalism.
Look for providers that have a strong online presence, including a professional website and social media profiles that showcase their work.
Consider companies that have earned awards or certifications for their work. And don't forget to ask about their quality assurance measures, including regular maintenance schedules and response times for emergency services and urgent projects.
Customer Service and Communication
The best landscaping service providers prioritize customer service and communication. They'll be responsive to your questions and concerns and will work with you to create a customized landscape plan that meets your needs and budget.
Look for companies that provide regular updates on services provided and progress made, so you're always in the loop. Also, consider their availability and responsiveness via phone or email. Read reviews and ask for references to get a sense of how other businesses have experienced their services.
Eco-Friendly Practices
If environmental sustainability is a priority for your business, look for landscaping services that incorporate eco-friendly practices. This might include the use of organic fertilizers, drought-tolerant plant varieties, and responsible use of water.
Ask about their recycling practices and use of electric or battery-powered equipment to reduce emissions. And if you're interested in enhancing the biodiversity of your property, look for providers that can recommend ways to attract pollinators and other beneficial wildlife.
Bellingrath Bros. Landscape Design West Hartford: What We Offer
Do you want to make your outdoor space more inviting and vibrant? If so, you've come to the right place! Bellingrath Bros. Landscape Design in West Hartford offers a wide range of services that can change the look of your lawn for the better. We check all the boxes mentioned in our guide to finding the best commercial landscaping services above – but we go above and beyond that basic checklist.
Whether you need mowing, landscape design, or even snow removal for your business, we have the expertise and skillset to showcase the best of what your brand has to offer.
Mowing
When it comes to mowing, we know how to achieve the perfect lawn. We have state-of-the-art equipment and use the latest techniques to ensure a flawless cut. You'll love the way your yard looks (and feels) once we're done – and so will your customers.
Landscape Design
A beautiful landscape design is a fantastic way of enhancing the aesthetic value of your home or commercial property. Our team of professionals will design a custom-tailored landscape plan that will blend effortlessly with whatever style of property you have.
Whether you want a rock garden or an exotic water feature, we have you covered. We can even add lighting to your landscape to create a stunning nighttime effect.
Weeding and Integrated Weed Management
Keeping up with weeds can be exhausting. You might have used a weedkiller or pulled them out manually to no avail.
Our team is fully equipped with the right tools and expert knowledge to get to the root of the problem. We will remove any pesky little weeds that have found a home in your property and keep them away.
Edging
Every great lawn needs edging. It helps define the space and makes your yard look polished. We specialize in all types of edging, and our team will work with you to determine the best options for your yard.
Planting
Looking to plant a new tree in front of your business, or perhaps winter flowers to brighten up your West Hartford Property?
Our planting services cover all your landscaping needs, from planting and ground preparation to maintenance.
Spring and Fall Clean-Ups
Regardless of how beautiful your landscape is, cleanup is an unending task. But we're not afraid of rolling up our sleeves and getting our hands dirty.
Our clean-up services give your landscape a fresh look and prepare it for the upcoming season, whether it's getting rid of the fallen leaves in the autumn or planting new flowers in the spring.
Other Services
Looking for other commercial landscaping services like excavation or snow removal? We offer those, too, along with many others.
Our team of professionals is always happy to take on any project, no matter how big or small.
Choose the Best Connecticut Landscape Solutions: Bellingrath Bros. Landscape & Design
Whether you're a homeowner looking to enhance your outdoor space or a commercial property owner seeking to create a welcoming and attractive environment, choosing the right landscaping company can make all the difference.
That's why Bellingrath Bros. Landscape & Design is the best Connecticut landscape solution for you.
Professional Expertise
Bellingrath Bros. Landscape & Design is a team of highly trained, licensed, and experienced landscaping professionals.
With years of experience and a wealth of knowledge, our team can manage your landscape project from start to finish.
From designing to installing and maintaining the landscape, hardscaping features such as retaining walls and walkways, lighting, and irrigation system, you can rest assured that we have the expertise to get it done right.
Customized Services – No Cookie Cutters Here
We recognize that each client's needs and preferences differ. Our team works closely with you, offering expert guidance and advice on suitable design concepts and materials to transform your outdoor space into a beautiful and functional haven.
We'll make sure your landscape reflects your aesthetic preferences and serves your practical needs, taking into account your budget, style, and unique tastes.
Top-of-the-Line Products
We use only top-quality plants, hardscape materials, and equipment sourced from reputable manufacturers and suppliers.
Our wide range of plants includes towering and majestic trees, shrubs, and breathtaking flowers that will add an aesthetic ambiance to your property. At Bellingrath Bros. Landscape & Design, quality materials ensure that your landscape investment will remain aesthetically pleasing and economically rewarding for years to come.
Furthermore, Bellingrath Bros. Landscape & Design utilizes state-of-the-art technology and landscaping techniques to complete our projects in the most efficient and effective manner.
Our modern equipment, along with creative and innovative design software, enables you to visualize your final project and make changes where necessary. From outdoor entertainment areas to environmentally friendly landscapes, our team has all the necessary tools and knowledge to incorporate the latest trends in landscaping.
Exceptional Attention to Customer Satisfaction
Bellingrath Bros. Landscape & Design prioritizes customer satisfaction, and thus every project that we handle reflects this ideology.
Although landscaping is our primary focus, our ultimate goal is to ensure you love your newly transformed property. With a strong focus on customer service, we work to ensure that every client's needs are met and exceeded.
Contact Us Today for West Hartford Commerical Landscaping
Bellingrath Bros. Landscape & Design provides customized, high-quality landscape solutions for commercial and residential clients.
Our team consists of highly trained, licensed, and experienced professionals who prioritize customer satisfaction. We are dedicated to bringing your landscape vision to life, providing an aesthetically pleasing oasis that serves your needs as well as your local environment.
Let us transform your outdoor space into a functional space and create a welcoming environment to enjoy for years to come. Contact us today to learn about our Connecticut landscape solutions and turn your landscape dream into a reality.
FAQ
What are 3 important considerations when designing a landscape plan?
Always consider function, budget, and personal style" while designing a landscape plan. First, decide how you want to use your outdoor space and consider which areas need to be utilized for what. Consider your budget and prioritize the most important features you want in your landscape.
What is the best time of year for landscape installation?
Generally, spring and fall seasons are the best times for new landscape installations as the weather is not too harsh, and the soil conditions are perfect for planting. However, if you plan on installing a hardscape feature like a patio, then you can carry out the installation any time of the year.
How do I find the best commercial landscaping in West Hartford, CT?
If you are looking for the best commercial landscaping services in West Hartford, Connecticut, then look no further than Bellingrath Bros. Landscape & Design. They are a team of experienced professionals that are ready to design, install, and maintain your beautiful outdoor space.