A properly constructed retaining wall not only enhances your landscape, but it also provides functional support and stability to your property.
Whether you are looking to beautify your property, prevent soil erosion, or create more usable space with West Hartford retaining walls, Bellingrath Bros Landscape & Design has the experience, skills, and passion to help you accomplish your landscaping goals.
What Are Retaining Walls?
If you've ever walked by a property that's situated on a slope, hillside, or any uneven terrain, then you may have seen a retaining wall.
These walls aren't always just for decorative purposes (though they can be), but they serve a crucial function in protecting homes, buildings, and other structures from soil erosion. In West Hartford, CT, retaining walls have become increasingly popular over the years, and it's not just because of the rocky terrain.
A retaining wall is a structure that is designed to hold back soil, dirt, or any other material, preventing it from eroding or collapsing downhill. Retaining walls are commonly used to keep soil in place and protect landscapes from erosion.
There are two primary types of retaining walls: gravity and reinforced.
Gravity walls are constructed with the weight of the wall itself as a counterbalance against the pressure of the soil. Reinforced walls use reinforcing materials like steel, concrete, and other materials to add strength to the wall.
Retaining walls come in a wide range of styles and materials that can be used to suit the terrain of the land. Some of the most common retaining walls are concrete walls, gabion basket walls, boulder/rock walls, and timber walls. Each of these types offers different benefits, making it easier for homeowners to choose the best one for their needs and budget.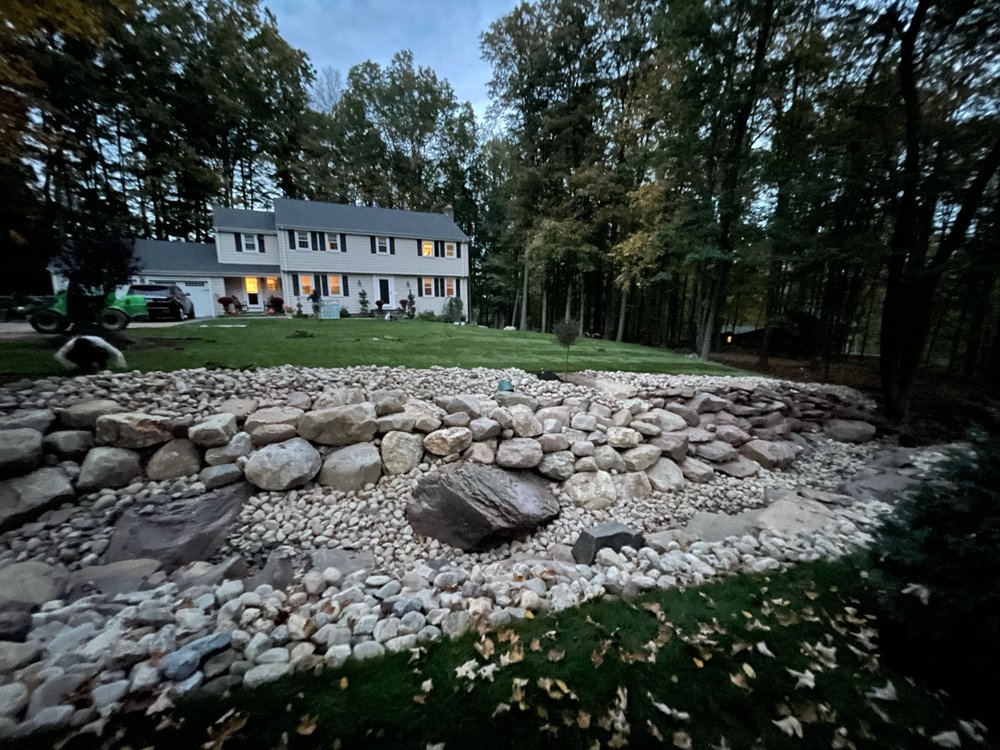 Why You Need West Hartford Retaining Walls
The hilly terrain and rainy (often unpredictable) weather in West Hartford, CT, make this area vulnerable to soil erosion. Retaining walls help protect properties by preventing soil from moving downhill, reducing the risk of landslides, and keeping soil and debris out of waterways. Not only that, but retaining walls help to create a level space for building or gardening, making it a beneficial investment for homeowners in the area.
Retaining Wall Maintenance in West Hartford, CT
Retaining walls offer a wide range of benefits that go beyond just erosion control and landscaping, such as privacy and noise reduction.
However, it's not enough to simply build retaining walls – you also need to maintain them.
Retaining walls require some level of maintenance, depending on the type and materials used.
For example, timber walls may require staining or sealing every few years to keep the wood protected from the elements. Concrete walls may need to be cleaned periodically to prevent staining or discoloration.
Homeowners who invest in retaining walls should also monitor them for any signs of damage, such as cracking, bulging, or leaning, and address any issues promptly. Here at Bellingrath Bros Landscape & Design, we have all the skills necessary to help you repair and maintain your retaining walls in West Hartford so that they remain functional and beautiful for years to come.
Why Build a Retaining Wall?
Have you been battling erosion in your backyard or struggling to create a flat garden bed on a slope here in West Hartford, CT? If so, you might have considered building a retaining wall. A retaining wall is a structure that holds back soil or water and allows you to make the most out of your property.
Here are a few reasons why building a West Hartford retaining wall might be a smart choice.
1. Improve Garden Property
One of the main reasons homeowners build retaining walls is to create flat garden beds or terrace slopes.
With the help of a retaining wall, you can strategically lay out garden beds, greenery, and plants to add color and texture to your property. Plus, controlling soil erosion and water runoff will keep your garden looking well-managed and thriving.
2. Enhance Curb Appeal
Retaining walls are not just functional but can also add value and appeal to your property.
By choosing the appropriate materials and designs, retaining walls can complement the architecture, add a contemporary feel, or provide a rustic charm to your property. The curb appeal that a well-constructed retaining wall can add to your home is undeniable.
3. Provide Durability and Stability
Retaining walls are made of various materials that provide durability and dependability for years to come.
Choosing the right type of materials, such as stone or concrete, provides the stability you need to hold back soil and protect your property from potential damage caused by water runoff.
4. Cost Benefits
Building a retaining wall may seem expensive initially, but in the long run, it can provide significant cost savings by reducing soil erosion and water damage.
Retaining walls can prevent expensive water damage that could result in costly repairs later on. Plus, the longevity of retaining walls could ensure that your investment is worthwhile.
5. Versatility
Retaining walls can be more versatile in their designs and uses than you may think. They can be built in to different heights, widths, and shapes, to contour and shape your landscaping according to your preferences.
With the help of a retaining wall, you can create a leveled patio or accommodate outdoor seating for entertaining and relaxation.
6. Guards Against Flooding
Retaining walls are a perfect solution for properties that have flood risks. A retaining wall built around your home can help protect it from floodwaters, which could cause significant damage to your property.
The structure helps block the water from entering the area, giving you peace of mind during rainy periods of the year.
7. Offers Additional Usable Space
Another great advantage to retaining walls is that it creates additional usable space.

West Hartford retaining walls create multiple levels in your garden, thus creating more space for planting. Again, retaining walls also provide an excellent opportunity for seating areas, allowing you to enjoy your outdoor space even more.
8. Increases Property Value
Are you planning on selling your home sometime soon? If so, you may want to contact a West Hartford retaining wall contractor ASAP>
Retaining walls can dramatically increase your property's value. The beauty of this is that adding a retaining wall is not a significant expense, but the value increase is significant, meaning you can get a quick and affordable return on your initial investment.
This kind of structure can serve as a focal point in your garden, adding curb appeal, and making your property even more attractive. It also provides a practical function of preserving the soil, protecting your property from erosion, and managing water runoff.
Your One-Stop Shop For All Your Retaining Wall Needs
Whether it is for landscaping, erosion control, or creating usable land, retaining walls provide the necessary support to keep everything in place.
At Bellingrath Bros, we understand the value of a retaining wall and how it can transform your property. As a family-owned and operated business, we take pride in helping our clients achieve their vision through our expertise and quality materials.
Whatever your retaining wall needs, we've got you covered.
Rock and Stone Retaining Walls
Rock and stone retaining walls add a natural, rustic charm to any outdoor space. At Bellingrath Bros, we offer a wide variety of rock and stone retaining wall options to choose from.
Our team will help you select the perfect style and texture that will complement your landscape design and provide a functional retaining wall solution.
From basic boulder walls to intricately stacked stone, we have something for every taste and budget.
Block Retaining Walls
Block retaining walls offer a modern, clean aesthetic to any outdoor space. Unlike rock and stone retaining walls, block retaining walls provide a uniform appearance that is great for contemporary designs.
At Bellingrath Bros in West Hartford, we offer a vast selection of block retaining wall options.
Our team will guide you through the process of choosing the right color, texture, and pattern to ensure you get the look and feel you want. With our quality materials and expert installation, your block retaining wall will provide years of stability and beauty.
Brick Retaining Walls
Brick retaining walls offer timeless elegance and durability. At Bellingrath Bros, we offer an extensive selection of brick retaining wall options, including antique, tumbled, and reclaimed brick.
Our team will help you select the perfect brick type and color to match your style and needs. We specialize in customized brickwork and can create a retaining wall that will not only provide stability but also add character and charm to your property.
…and So Much More!
At Bellingrath Bros, we pride ourselves on being your one-stop-shop for all your retaining wall needs. In addition to rock, stone, block, and brick retaining walls, we also offer other options like wood, concrete, and steel.
Our team will work with you to create a retaining wall that will meet your specific needs and provide long-lasting durability. We also offer repair and replacement services for existing retaining walls that have seen better days.
Bellingrath Bros. Landscape & Design for All Things Retaining Walls
Bellingrath Bros Landscape & Design has been in the landscaping business for over 20 years.
During this time, we have completed numerous retaining wall projects, ranging from small residential installations to large-scale commercial landscaping.
Our team of experts has the knowledge and experience to identify the most appropriate materials, design, and construction methods for your specific needs. We're well-versed with the West Hartford building code and zoning laws, as well as drainage regulations. Therefore, you can count on us to create a structurally sound and regulation-compliant retaining wall.
Custom Design
At Bellingrath Bros Landscape & Design, we believe that a well-designed retaining wall can transform your landscape into an enchanting masterpiece.
We understand that every client has unique needs, preferences, and budgets, which is why we provide custom design services.
Our team will work closely with you to understand your vision and then create a design that fits your taste, style, and needs.
We use a wide range of materials, from natural stones to concrete blocks, to customize your retaining walls. That way, no two projects are exactly the same.
Quality Materials
We source our materials from reputable vendors, ensuring that we only use high-quality products for our retaining wall projects.
We understand that not all materials are equal, which is why we only work with materials that can withstand New England's harsh winters and summers.
Whether you prefer natural stones, veneer stones, timber, brick, or concrete blocks, we will ensure that every material used in your retaining wall project is of the highest quality.
Competitive Pricing
We understand that price is a key factor when choosing a retaining wall contractor. At Bellingrath Bros Landscape & Design, we strive to provide our customers with the best value for their money.
We offer competitive pricing for all our services, and we will work with you to ensure that your project's budget is met. We also provide transparent pricing, so you know exactly how much you will pay for our services.
Choose the Best West Hartford Retaining Walls Contractor
If you've found yourself Googling, "retaining wall contractors near me," you're probably totally overwhelmed with the results. There are lots of West Hartford retaining wall contractors to choose from – so how do you pick the right one?
When it comes to retaining wall installation, maintenance, and repair, Bellingrath Bros. Landscape and Design is the trusted contractor in West Hartford, CT, that can help you achieve your vision with professionalism, creativity, and expertise – all while working within your budget and timeline.
Contact us today to schedule a consultation for your next West Hartford retaining wall project.
FAQ
Are retaining walls worth it?
Not only do they serve practical purposes such as holding soil in place and preventing erosion, but they can also enhance the aesthetics of any outdoor space. Retaining walls can be used to create terraced gardens, multi-level patios, and seating areas, or they can be used as a backdrop for water features, outdoor kitchens, and fire pits.
How deep before you need a retaining wall?
The depth required for a retaining wall depends on the slope and the type of soil. As a general rule, a retaining wall is needed when the slope of the ground is steeper than a 3:1 ratio (slope to horizontal distance), but other factors such as soil type, drainage conditions, and climate should also be taken into account when deciding whether to install a retaining wall.
What is the cheapest retaining wall?
The cost of a retaining wall depends on various factors such as materials, size, site conditions, and labor. At Bellingrath Bros. Landscape and Design, we work with a range of materials, such as natural stone, segmental retaining wall blocks, and concrete, to provide customized solutions that meet both practical and financial needs.
Why are retaining walls so expensive?
Retaining walls are not inherently expensive, but the costs can vary depending on factors such as excavation needs, grading, and drainage solutions. Investing in a well-designed and constructed retaining wall can save long-term costs by preventing soil erosion, minimizing water damage, enhancing property values, and improving curb appeal – and at Bellingrath Bros. Landscape and Design, we strive to provide those affordable yet high-quality services to our clients.