Welcome
Bellingrath Bros. Landscape & Design is a West Hartford landscaping company that also services Bloomfield. We started off in 1999 when Mac Bellingrath started the business while still attending Hall High School. Since then we have grown a bit, with a shop in Newington and a larger service area. We are a full service landscaping company providing a variety of services from landscaping and lawn care to excavation and hardscaping.
Mac has been taking care of my property for close to a decade, from snow removal, to laying sod, to clearing out woods to create more yard he has always delivered. Mac cares about every project he takes on and is not satisfied until the job is perfect. He is loyal, dependable, and responsive, if you need a landscaper who you can count on Bellingrath Bros is it.

Ned W.
Project Gallery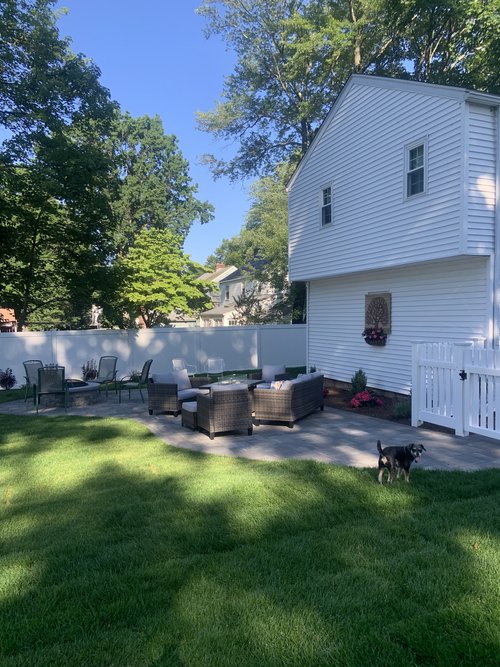 Our Bloomfield Landscaping Services
Transform Your Outdoor Space with Premier Landscaping Services from Bellingrath Bros. Landscape & Design in Bloomfield
Welcome to Bellingrath Bros. Landscape & Design, the premier provider of top-notch landscaping services in Bloomfield. We're your one-stop-shop for all your outdoor needs, whether you need lawn care, excavation, retaining wall installation, or snow removal services. Our team of experts has years of experience and has helped countless Bloomfield residents create stunning outdoor spaces that they can enjoy all year round.
We understand that your outdoor space is more than just a piece of property, it's an extension of your personality and style. That's why we offer tailored solutions that cater to your specific needs and preferences. We take care of every detail, from conceptualization to execution, to ensure that your vision is realized to perfection.
Our skilled and experienced lawn care professionals are industry leaders in Bloomfield and its surroundings. We don't just mow your lawn, we keep it healthy and lush all year round, with a total satisfaction guarantee.
So, why settle for a mediocre landscape when you can have a spectacular one? Let us transform your property into an outdoor oasis that will leave your neighbors envious.
At Bellingrath Bros. Landscape & Design, we offer a range of services to meet your property's unique needs. Our services include:
Bloomfield Landscaping
Transform your property into a stunning outdoor oasis with the help of Bellingrath Bros. Landscape & Design. Our professional landscaping services in Bloomfield will elevate the natural beauty of your property, increase its curb appeal, and even boost its value. From planting trees and flowers to designing and installing custom outdoor living spaces, our skilled team will work closely with you to create a landscape that suits your style and needs. Using the latest technology and equipment, we guarantee that your landscaping project will be installed efficiently and effectively. We take pride in delivering a personalized and professional approach to our clients, which is why we offer customized landscaping plans to fit your budget and needs. Don't settle for an ordinary outdoor space, let us transform your property into a breathtaking sanctuary.
Bloomfield Lawn Care
Transform your lawn into a beautiful and healthy oasis with the expert lawn care services from Bellingrath Bros. Landscape & Design. A beautiful lawn is essential for any property, and proper lawn care goes beyond just mowing the grass. From fertilizations and aeration to pest control and weed management, we offer a range of services to ensure that your lawn looks great year-round. Our skilled team will work with you to create a customized lawn care plan. Whether you require a one-time service or ongoing maintenance, our flexible scheduling and competitive pricing make it accessible to everyone in Bloomfield.
Bloomfield Excavation
Transforming your vision into reality requires careful planning, attention to detail, and an experienced team. At Bellingrath Bros. Landscape & Design, we offer exceptional excavation services in Bloomfield to help bring your dream property to life. Whether you are building a new home, a commercial building, or a swimming pool, our team of skilled professionals can help you complete your project quickly and efficiently. We have extensive experience handling excavation projects of all sizes, ensuring that the process is done safely and with the utmost care. From start to finish, our team works closely with you to ensure that we deliver the best possible service. At Bellingrath Bros. Landscape & Design, we are committed to providing high-quality excavation services at competitive prices.
Bloomfield Retaining Walls
Transform your outdoor living space with a stunning retaining wall that provides both function and beauty. At Bellingrath Bros. Landscape & Design, we specialize in designing and installing high-quality retaining walls that are both structurally sound and aesthetically pleasing. Our hardscaping services in Bloomfield are designed to not only enhance the beauty of your outdoor space but also improve its durability and functionality. Our team of experts has years of experience in providing reliable retaining wall and hardscaping services, from preventing soil erosion to adding patios, walkways, and water features. We use the latest tools and techniques to ensure that your project is built to last, and work closely with you from design to installation to ensure that your unique needs and specifications are met.
Bloomfield Snow Removal
When winter hits, it can leave your property covered in snow and ice, making it difficult to move around. But with Bellingrath Bros. Landscape & Design professional snow removal services, you won't have to worry about that. We offer top-notch snow removal solutions in Bloomfield to keep your driveways, walkways, and parking lots safe and easily accessible during the winter season. Our team of experts uses the latest equipment and techniques to efficiently clear snow and ice from your property. We provide 24/7 snow ploughing and removal services to ensure that your family, employees, and customers stay safe. Don't let snow ruin your day, contact us today for reliable and efficient snow removal services.
Frequently Asked Questions
How often should you mow your lawn?
Mow frequency depends on grass type and growth rate. Aim for weekly mowing, but slow-growing grasses like Bermuda may only need mowing every two weeks. Lawn care needs vary by grass type, season, and climate. Bellingrath Brothers Landscape & Design offers custom lawn care plans to determine the optimal mowing frequency for your lawn based on grass type, climate, and soil conditions.
Is it better to mow at night or morning?
For safe and efficient lawn mowing, it's best to do it during the daytime when the grass is dry. Optimal mowing times are in the morning or early afternoon, as the temperatures are cooler and the grass is not wet. Mowing when the grass is dry can prevent the spread of disease and make the process more efficient. Nighttime mowing is not recommended as it can be dangerous and disruptive to your neighbors. At Bellingrath Bros. Landscape & Design, we suggest scheduling your lawn mowing services during the day to ensure safe and efficient work.
Is it OK to mow when grass is wet?
Mowing wet grass can be detrimental to the health of your lawn, causing clumping, uneven cuts, and even disease. To prevent these issues, it's recommended to wait until the grass is dry before mowing. At Bellingrath Bros. Landscape & Design, our lawn care professionals can help you determine the optimal mowing schedule for your lawn to keep it healthy and looking its best.
What is better mulch or rocks?
Mulch and rocks both have advantages that make them suitable for different needs. While mulch provides nutrients to the soil and is cost-effective, rocks enhance drainage and last longer. Whether to choose mulch or rocks for your property depends on your budget, personal preference, and landscaping needs. Mulch retains moisture in the soil, improves soil structure, and suppresses weeds. On the other hand, rocks provide a formal and modern look and are more durable.
Information About Bloomfield
BLOOMFIELD Weather
About Bloomfield, CT
Bloomfield is a small town in Connecticut that is known for its rural areas and picturesque landscapes. Located in Hartford county it is home to a variety of attractions, including parks, shopping and restaurants. It is a popular residential area for people working in Hartford due to its proximity to the state capital. The town is the home to the 4-H Education Center at Auerfarm. Bloomfield has numerous restaurants, stores and galleries that provide a high quality of life for residents and visitors.
Originally settled in 1660, Bloomfield was incorporated in 1700. The town was originally part of Wintonbury which also included Simsbury. It was officially separated from Wintonbury in 1835. A surge in growth occurred during the late 1800's through the early 1900's. Today, Bloomfield has a population of approximately 20,000 people, making it one of the larger towns in Connecticut. The Bloomfield Historical Society is responsible for maintaining the historical artifacts.
Bloomfield is located in central Connecticut and sits between Windsor and Simsbury. It covers an area of 23.6 square miles and is home to several parks and lakes, including the Peoples State Forest. The Farmington River also flows through Bloomfield and it provides a popular destination for fishing and other recreational activities.
There are seven elementary schools as well as one middle school and one high school. The public school district is home to one of the UConn branches which offers a variety of undergraduate, graduate, and professional programs.
The Talcott Mountain State Park is located in Bloomfield and has more than 2,000 acres of trails, streams and ponds. The park is popular with hikers, bikers and nature lovers. Located on Talcott Mountain, it offers stunning views of the Hartford skyline. The parks trails range from short and easy strolls to more strenuous hikes. There are also picnic spots and several campgrounds located within the park.
Our Service Areas
Request a Quote
Please complete the form below or call us at (860) 490-2817.